Kelly Green Matte HydroBag
Regular price
Sale price
$82.00 CAD
Unit price
per
Sale
Sold out
For those who love green--it's the perfect pop of color to any outfit! 
USE CODE FREESHIP FOR FREE SHIPPING
Keep Your Hands-Free — Stay hydrated when you're on the go with our patent pending WanderFull® HydroBag; This water bottle bag is ideal for sightseeing, festivals, sports events, traveling or walking the dog
Never Lose Your Bottle — Reusable water bottles are expensive, ensure you never lose yours by keeping it safely stored in the HydroBag; This tote will also keep bottles from getting scratched or damaged. Best of all, you can stop buying disposable water bottles!
Carries Essentials  with TWO pockets— Store your travel & daily essentials in the large double-zippered pockets; The outer pocket is designed to fit the largest cell phones while the inner pocket has a place for a passport, credit cards, Airpods & more; More practical than most small bags
Large Waterproof Pocket — This puffer bag fits bottles 3.5-in or less in diameter; Protects your essentials from spilled water; Ideal for water bottles, reusable soda & coffee cups, & wine bottles (great gift)!
Quality Details — Adjustable 2 inch wide strap distributes bottle weight; Lightweight, soft, & durable material; Stylish quilted fabric & trendy strap make this a must-have accessory & fabulous gift
The Details
Puffer Coat fabric: Kelly Green matte w/ adjustable and interchangeable woven white and green guitar strap. 
Hardware: Gold toned hardware, Material: 100% Nylon
Care instructions: Spot clean with mild detergent. Can be washed in machine on gentle but only recommend in case of a "dirt emergency". Frequent washes may harm fabric
Size: 11 inches tall, 5 inches wide, can hold a water bottle up to 3.5 inches in diameter
Strap is 2 inches wide
                **Water bottle not included 
Share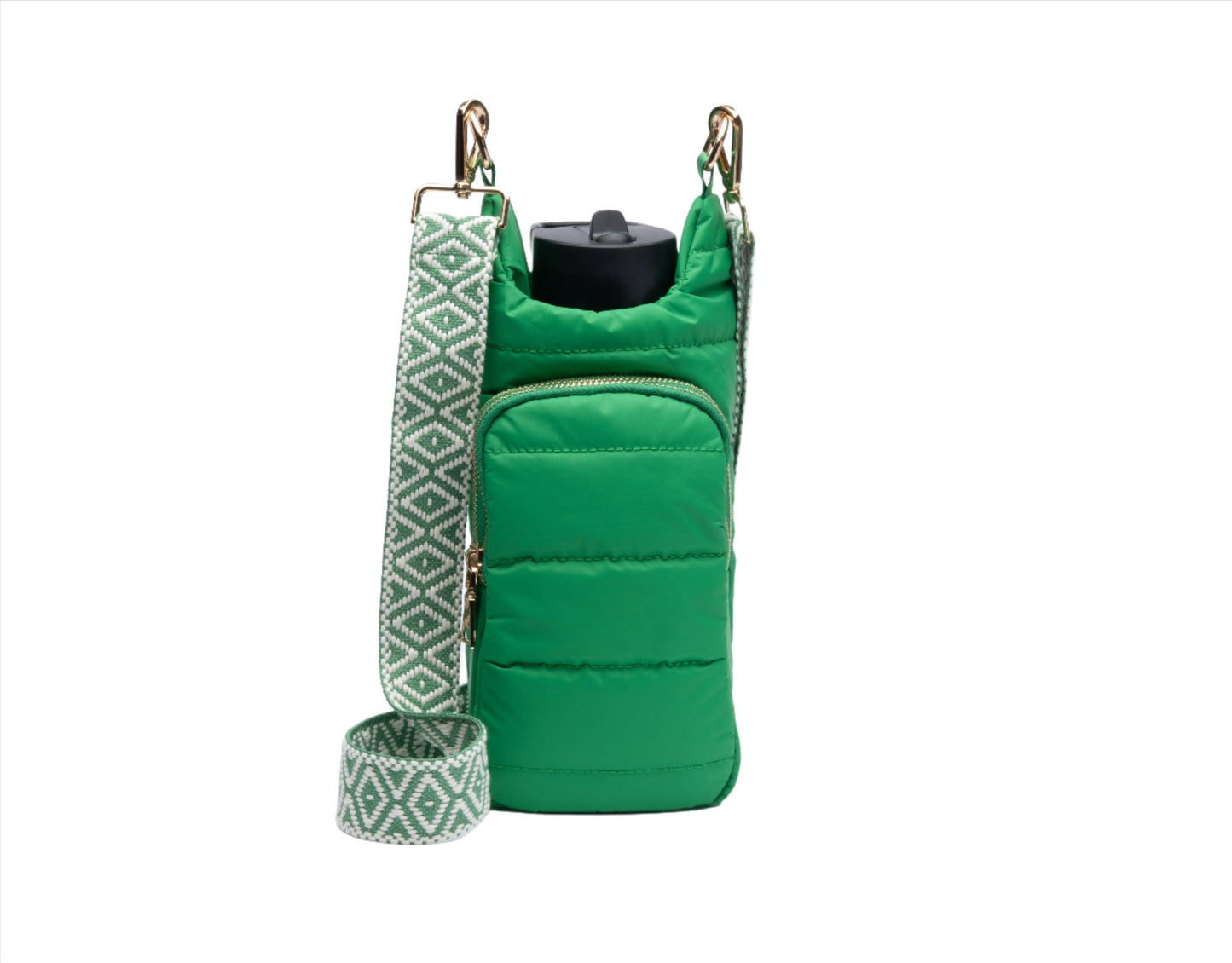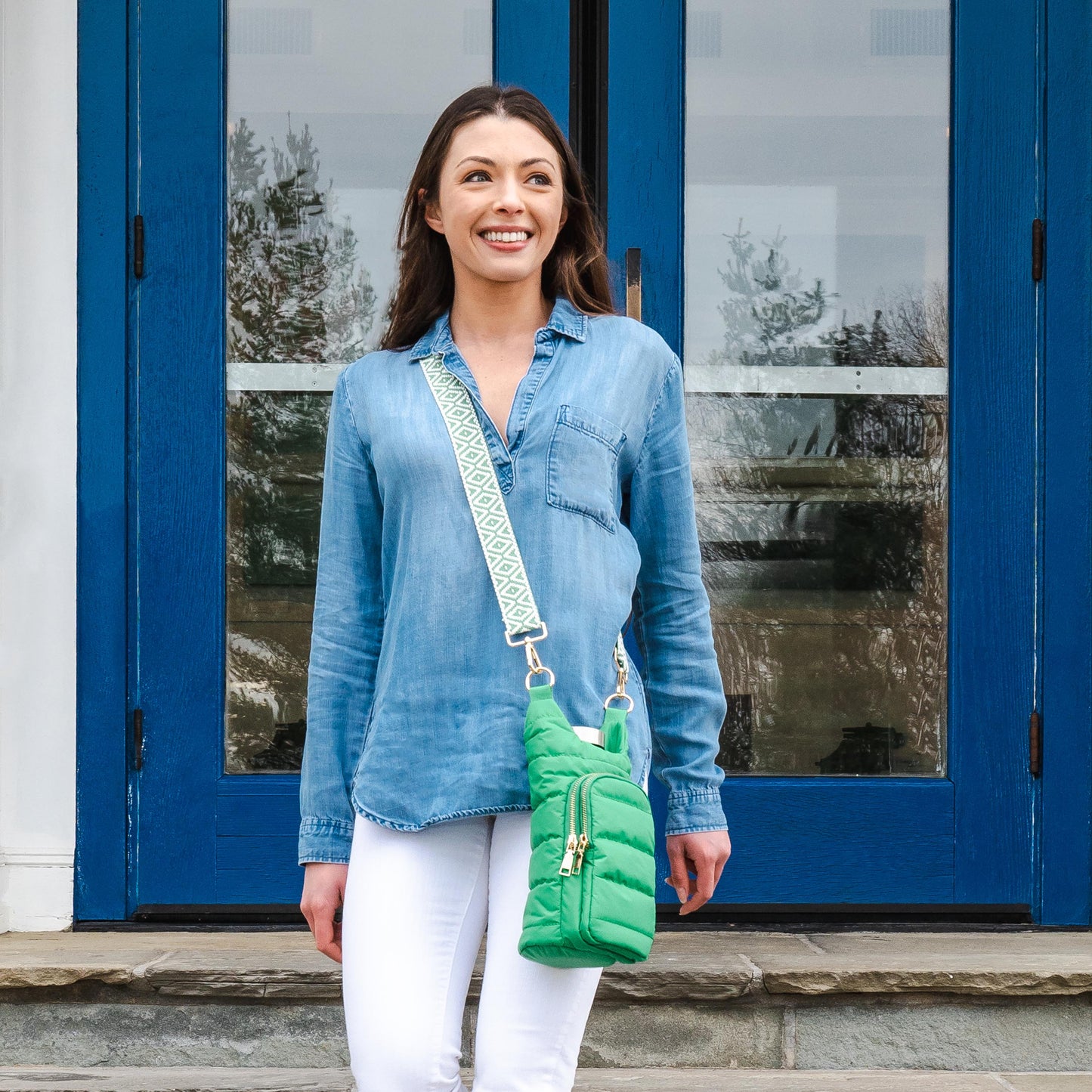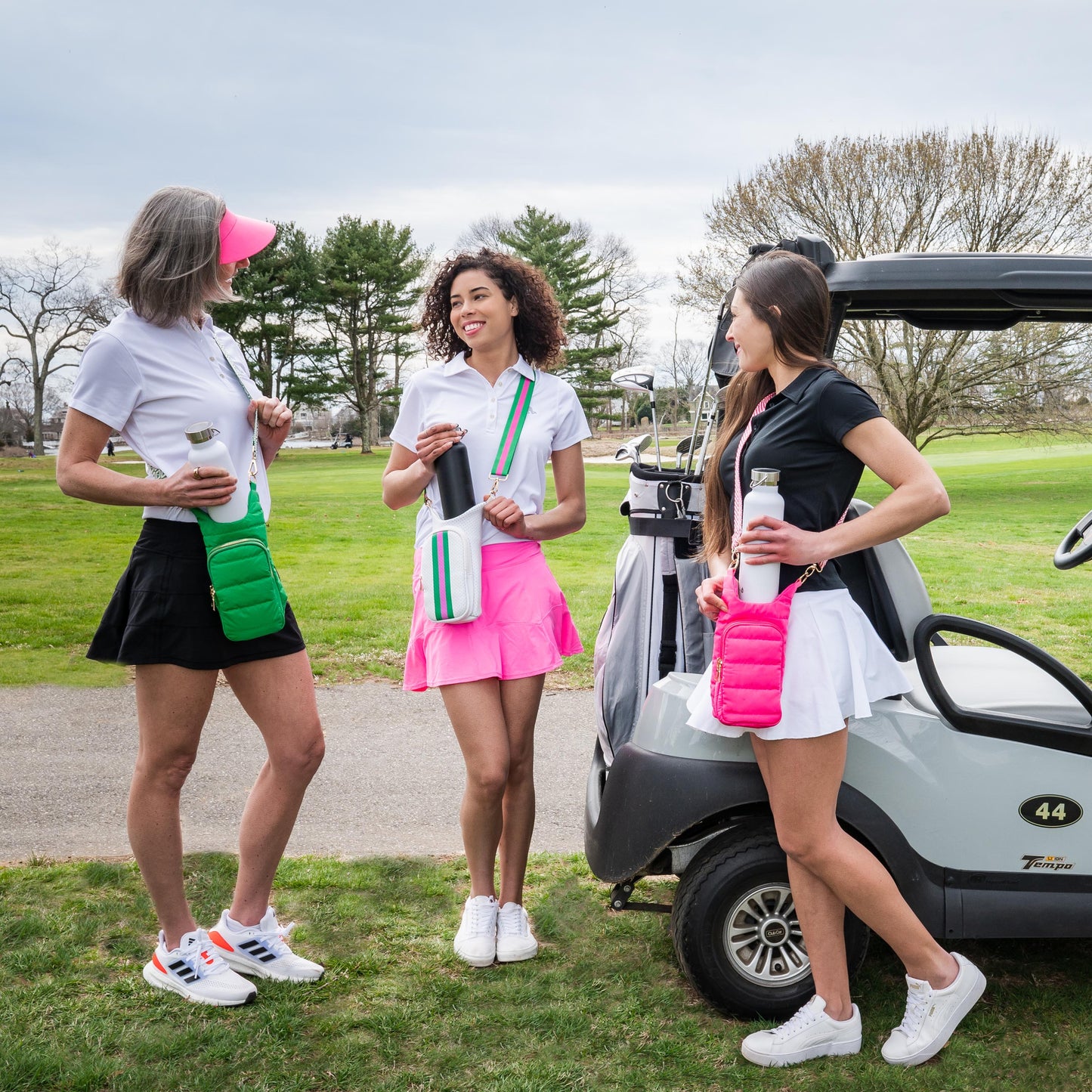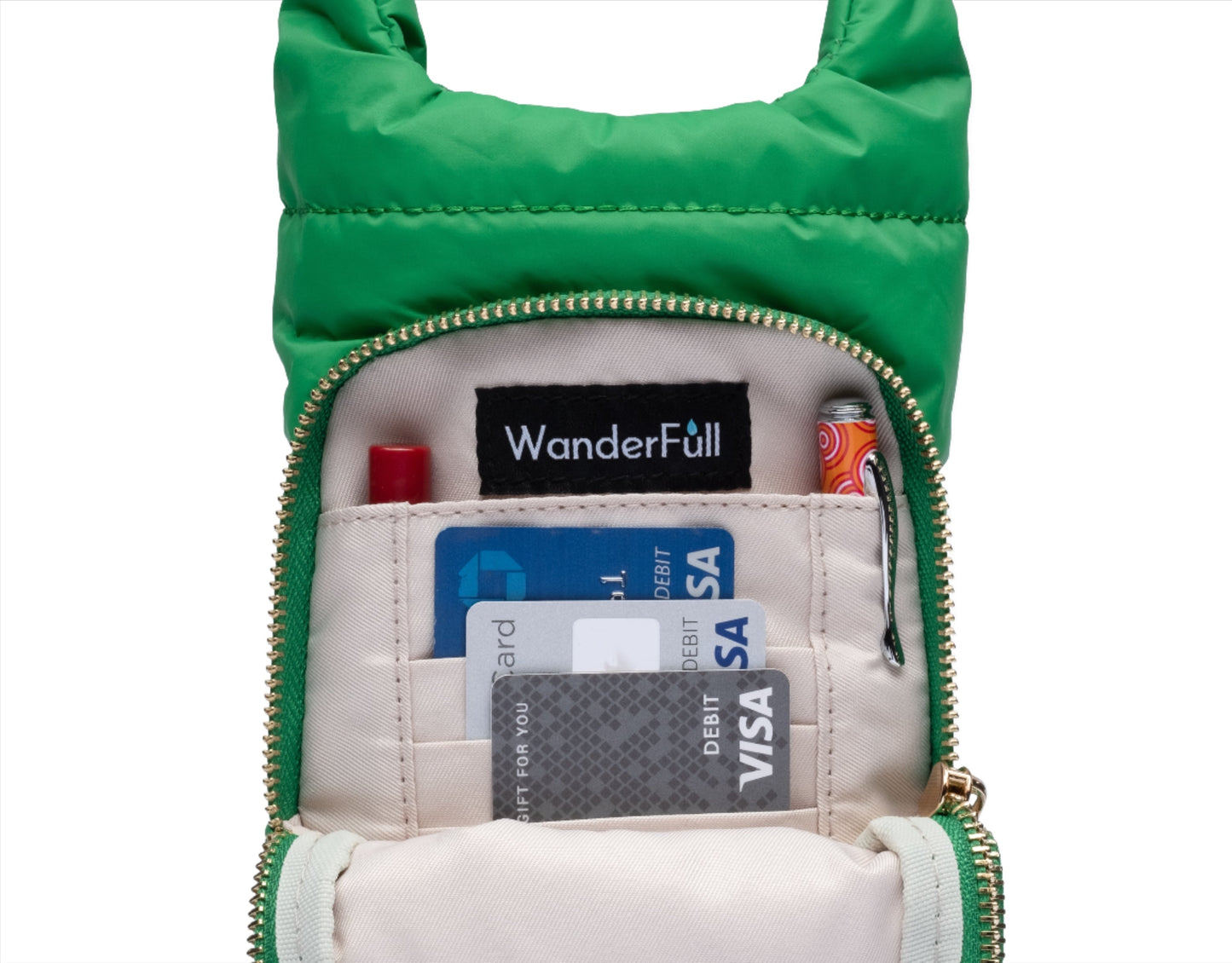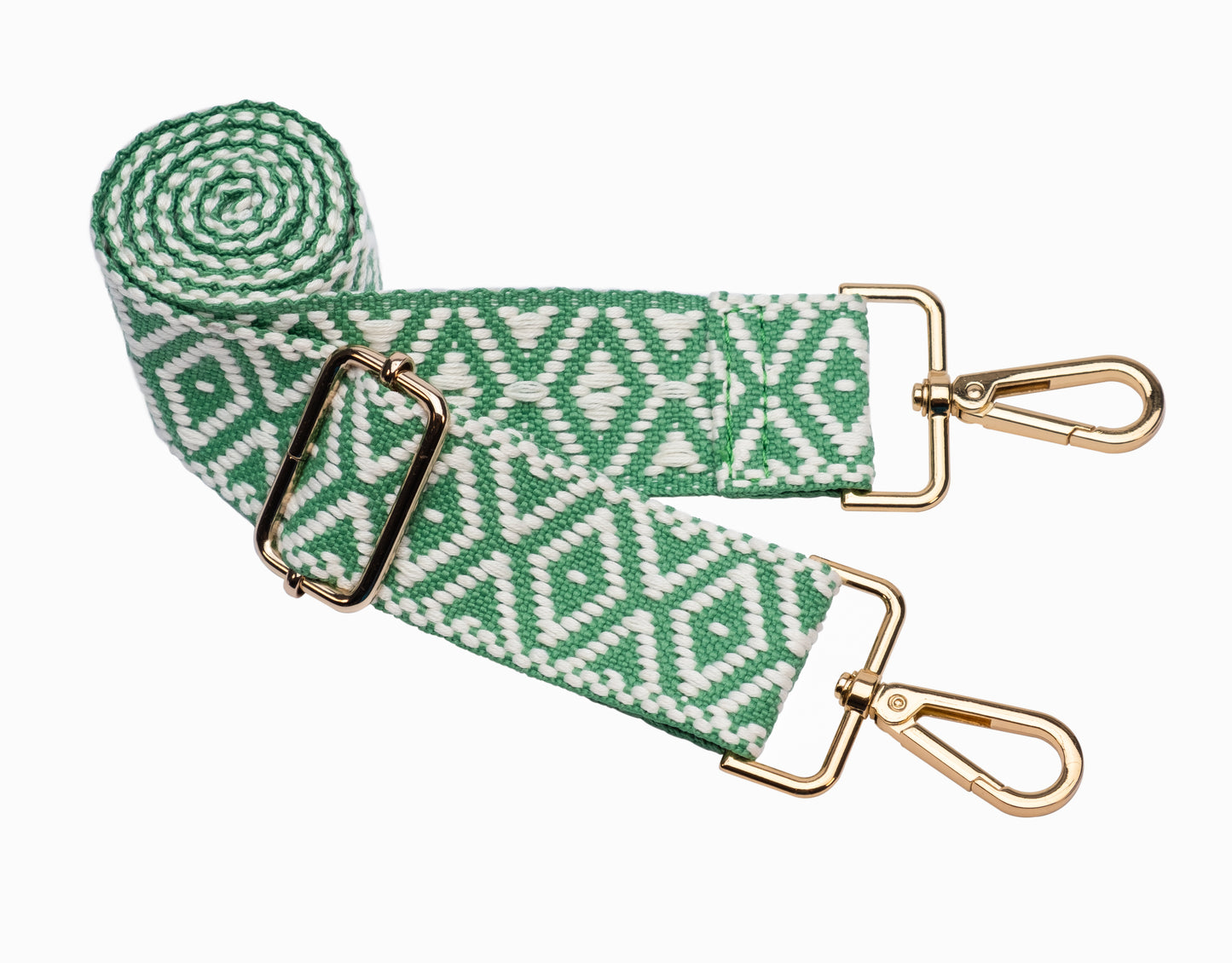 Love hydrobags
I bought a gray hydro bag at a store while we were on vacation a couple months ago. I brought it with me when I went to visit my friend the next week. She loved it and her birthday was coming up, so I gave it to her. I went online and bought the kelly green hydro bag. I brought it to my appointment with my hairdresser and she also loved it and is going to buy one.
Kelly Green Matte HydroBag
Love the color! Positive feedback from customers.
Love my Green Bag (first time ordering from you)
I just received my Kelly Green bag. Wow! It is soooo pretty. The zip-pockets allow for me to carry extra SD Cards for my camera, extra batteries, sugarless gum, & personal items of my choosing, & my 21 oz Coldest brand thermos. Using the shoulder strap allows me to devote both my hands to snapping nature photographs with my camera. No regrets ordering this product for the first time. I also spoke to 2 ladies by phone & they were kind.
Very functional and cute!
I just received my green Hydrobag and it's prettier and much more spacious than I was anticipating. I love the concept, the strap is very cute, and I'm very excited to try it out on my upcoming trip to NYC! Thank you for your clever and useful concept.