Wholesale - Sage Green HydroBag with Tan/Green Strap
Regular price
Sale price
$39.00 CAD
Unit price
per
Sale
Sold out
Keep Your Hands-Free — Stay hydrated when you're on the go with our patent pending WanderFull® HydroBag; This water bottle bag is ideal for sightseeing, festivals, sports events, traveling or walking the dog
Never Lose Your Bottle — Reusable water bottles are expensive, ensure you never lose yours by keeping it safely stored in the HydroBag; This tote will also keep bottles from getting scratched or damaged. Best of all, you can stop buying disposable water bottles!
Carries Essentials — Store your travel & daily essentials in the large double-zippered pockets; The outer pocket is designed to fit the largest cell phones while the inner pocket has a place for a passport, credit cards, Airpods & more; More practical than most small bags
Large Waterproof Pocket — This puffer bag fits bottles 3.5-in or less in diameter; Protects your essentials from spilled water; Ideal for water bottles, reusable soda & coffee cups, & wine bottles (great gift)!
Quality Details — Adjustable 2 inch wide strap distributes bottle weight; Lightweight, soft, & durable material; Stylish quilted fabric & trendy strap make this a must-have accessory & fabulous gift
The Details
Puffer Coat fabric: Sage green w/ adjustable and interchangeable tan and sage guitar strap. 
Hardware: Gold toned hardware, Material: 100% Nylon
Care instructions: Spot clean with mild detergent. Can be washed in machine on gentle but only recommend in case of a "dirt emergency". Frequent washes may harm fabric
Size: 11 inches tall, 5 inches wide, can hold a water bottle up to 3.5 inches in diameter
Strap is 2 inches wide
                **Water bottle not included 
Share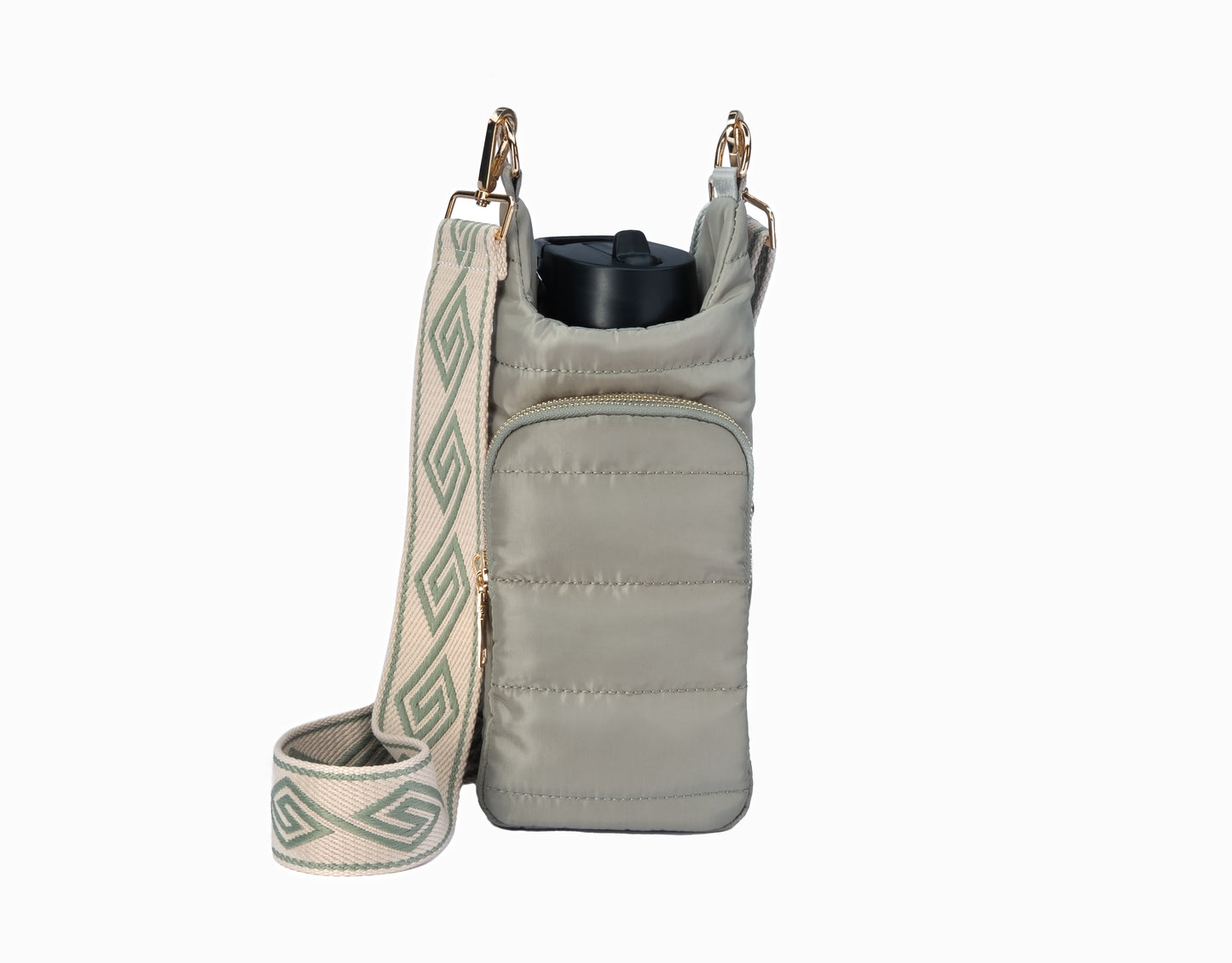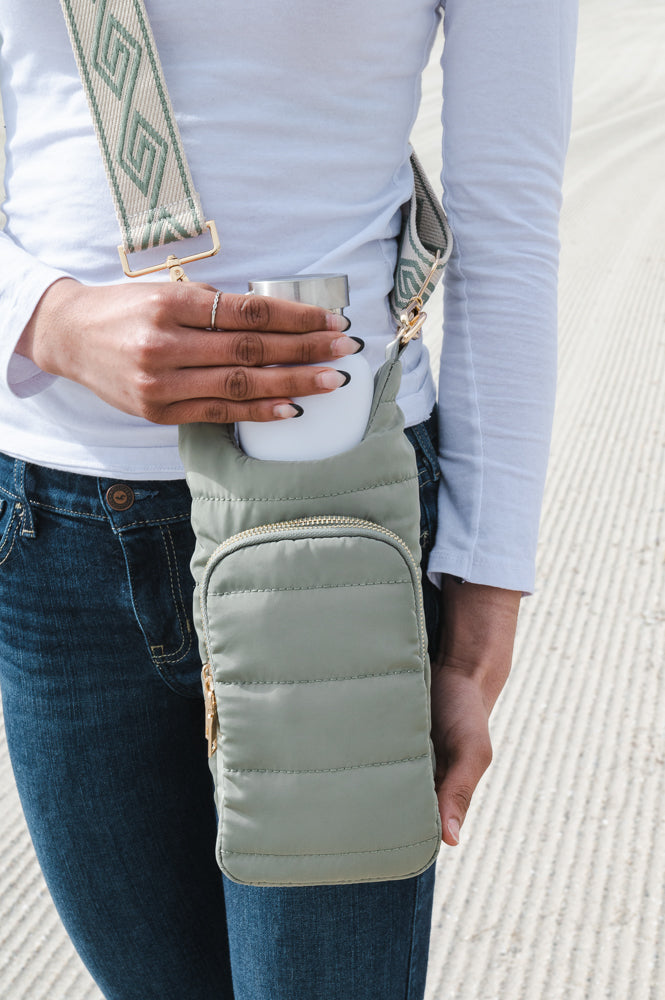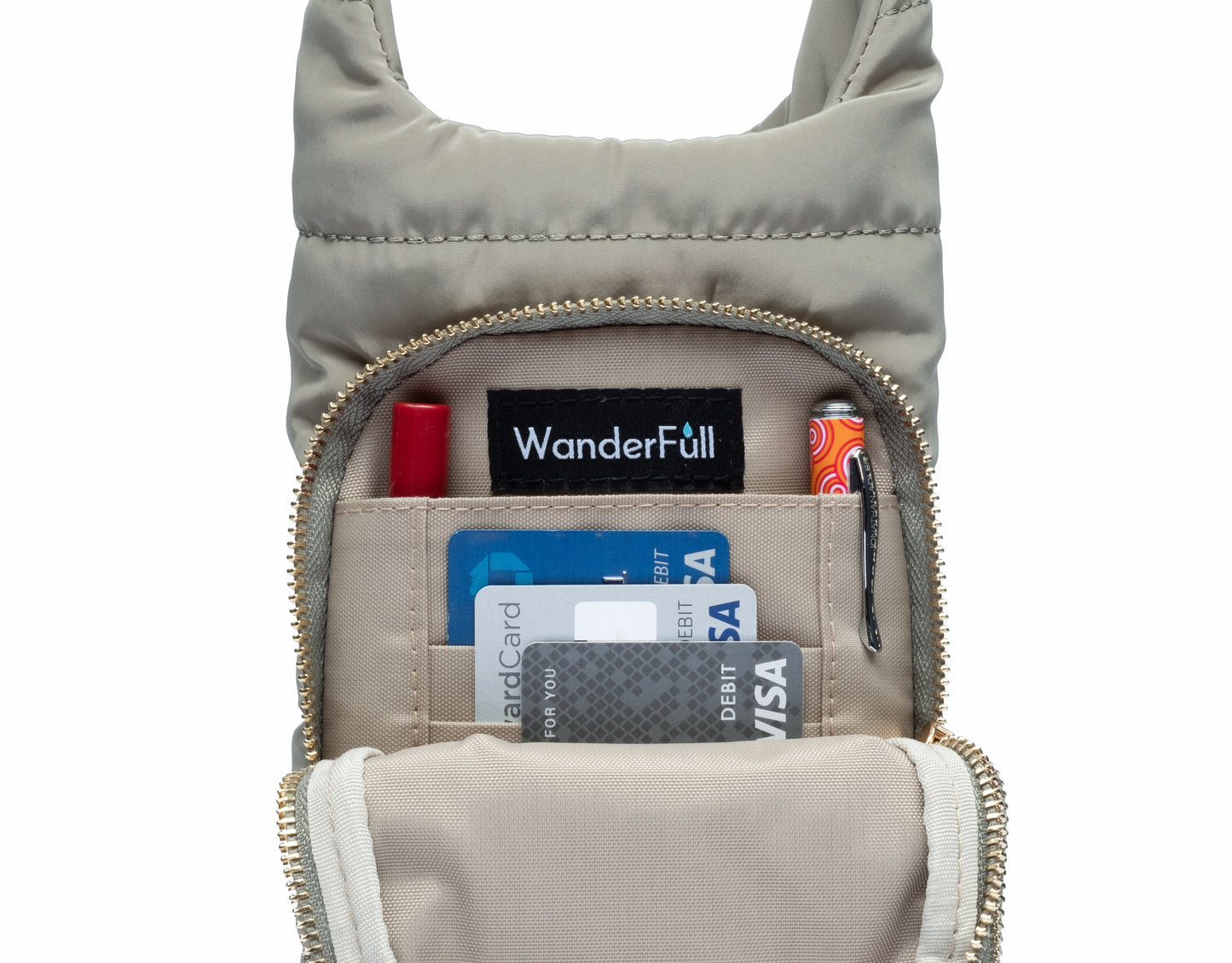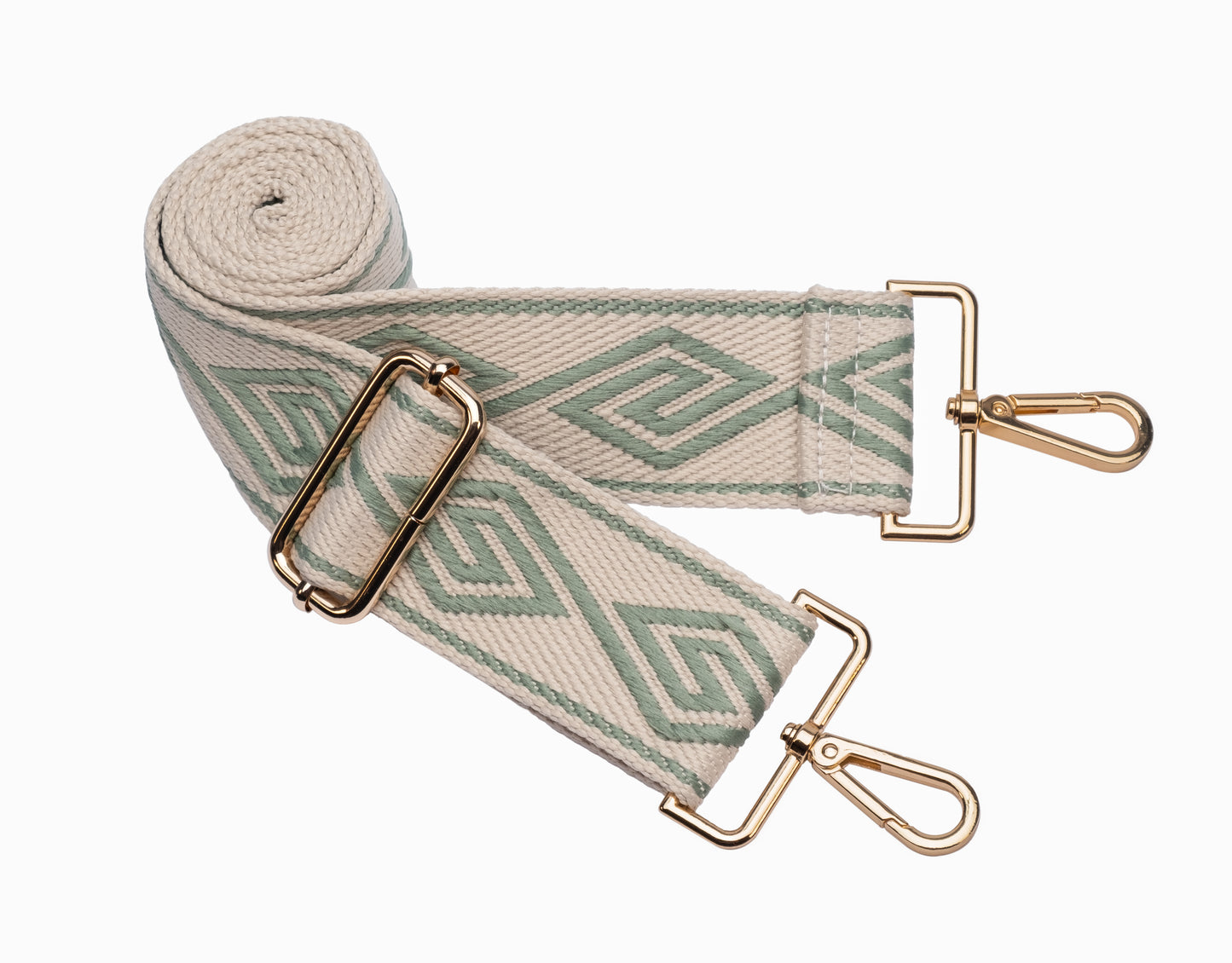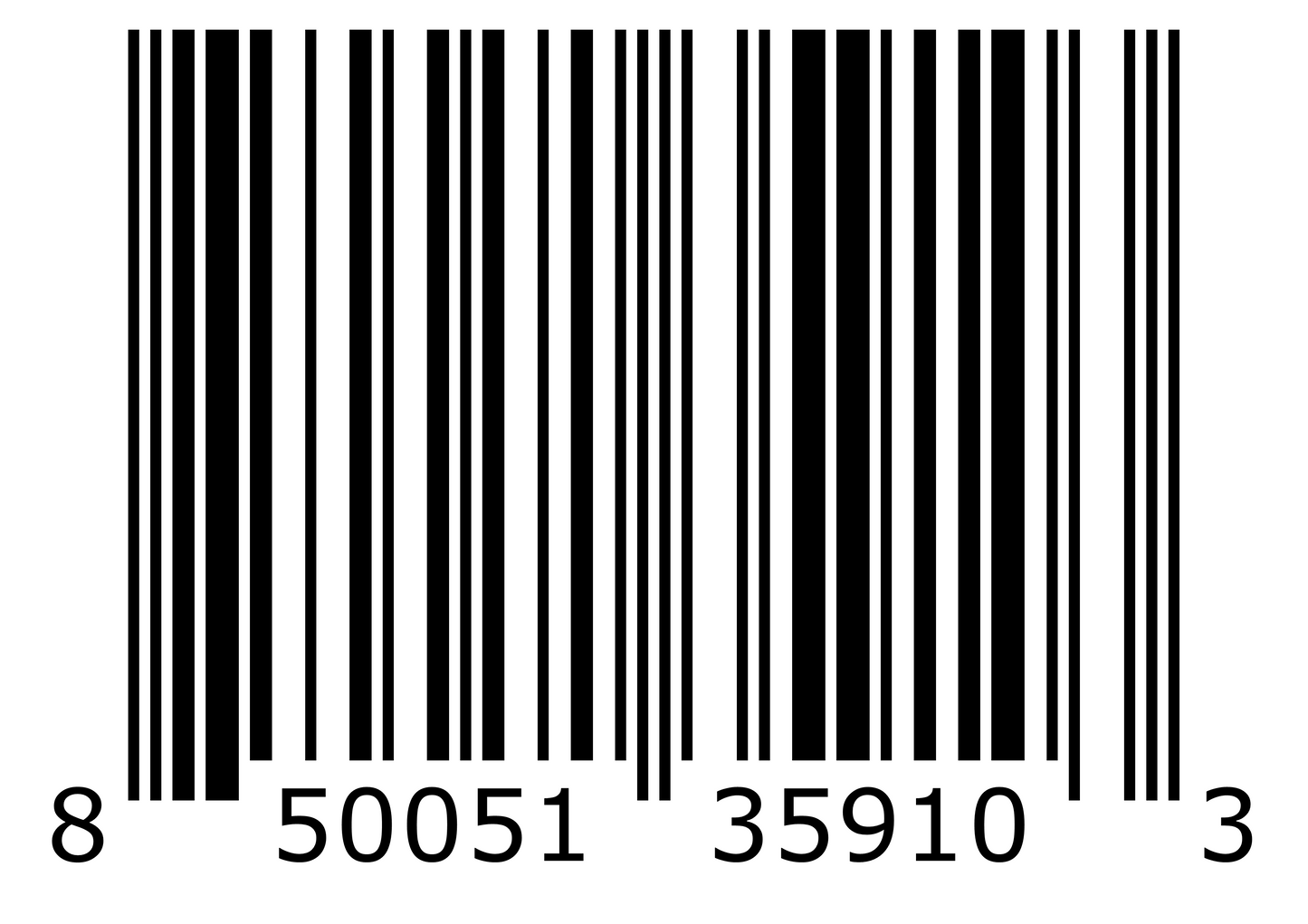 Cute and sturdy!
I LOVE this bag! The color is absolutely gorgeous paired with the gold. It's sturdy and the pockets are big enough to hold all of my things (phone, wallet, keys, portable chargers, passport, and more) in addition to the water bottle! It seems like it can hold a variety of sizes too which is nice! I love this!
Gets dirty even from water
I should've known this color would get dirty really quickly. But it even shows water stains. I'm not very happy with this purchase.
Hi Mary,
We are sorry to hear that! This bag can go in your washing machine and you should be able to get the stains out. Please remove the strap first. It will not show water once it dries. If a stain is something that is difficult to get out of clothing then of course it would also be difficult to get out of a bag made out of fabric. We really hope that you try this and that it works out. If you want to contact us we can give you a hefty discount code to purchase a bag of a different color. Please contact us at support@libertyhillbrands.com
Thank you!
Love the convenience
My big Hydro flask is a very tight fit, but it fits. Love having my water and being hands free
The "Must Have" Bag!!
I purchased several of these beautiful bags in multiple colors and they are absolutely the best! The quality is above and beyond, the colors are fabulous, and you will definitely fall in love with how lightweight this bag is.
They are WanderFull! ~
Sky Gray Bag
Another great color! (I also bought the [Kelly] Green Bag & it's pretty, too! I daily take photos & videos of birds & animals in nature. This bag will serve the purpose of carrying my Coldest(brand) 21 oz thermos bottle (cold water). The inner pockets I will put my SD Cards & extra batteries, as well as sugarless gum, sanitizing wipes, & any other personal items of my choosing. No regrets buying from you for the first time. I will hope to buy the pink & the orange ones next time. I spoke to 2 ladies by phone to check on my order & they were kind!